Why Choose Cutters Landscaping in Round Rock?
Cutters Landscaping Round Rock is a one-of-a-kind firm that delivers distinct individuality while providing you with an economic edge. We are glad to have seasoned employees that have been in the company for a long time and contribute their expertise to each project.
With the assistance of experienced landscapers, we change your outside living area. We are a full-service landscaping business in your area. Since our doors opened, our staff has assisted hundreds of residential and business customers in Round Rock and the surrounding areas.
We are the specialists to contact at Cutters Landscaping if you need extensive design-and-installation work or just someone to take care of things. Our staff is enthusiastic about what we do, and we strive to meet and exceed your expectations. We don't believe in a one-size-fits-all strategy regarding landscaping, outdoor living areas, and commercial landscaping projects. 
Our team understands that everyone has a particular vision for their outdoor living area, and you can be sure that we always keep yours in mind. Our professional landscapers will ensure that your aesthetics and the current design of your residential or commercial are incorporated from start to finish to create a stunning yard that will envy your neighbors. The best thing is that we work within your budget since high-quality landscaping does not have to be expensive.
Our Services in Round Rock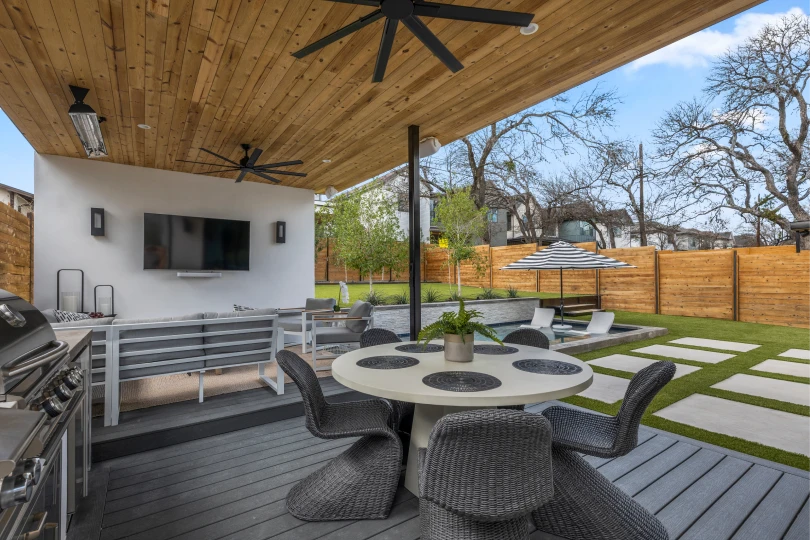 Landscape Design
Entrusting someone else with your property can be challenging, so we do our best to make the process as easy and exciting as possible.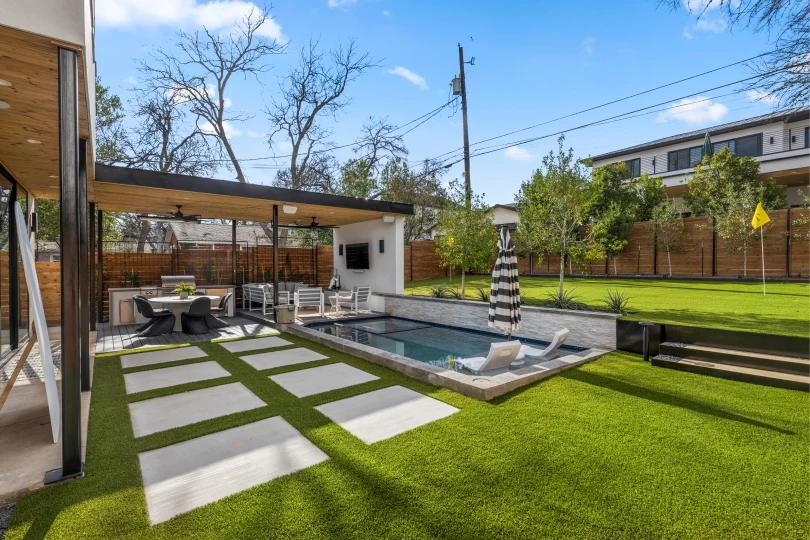 Landscaping
Landscaping is one of the most important elements of the outdoor space of a property, and can improve or amplify the aesthetic component of any house or office space.
Hardscaping
To create a beautiful and effective area around your property, you need to incorporate the two main elements that make up outdoor living spaces: softscape and hardscape.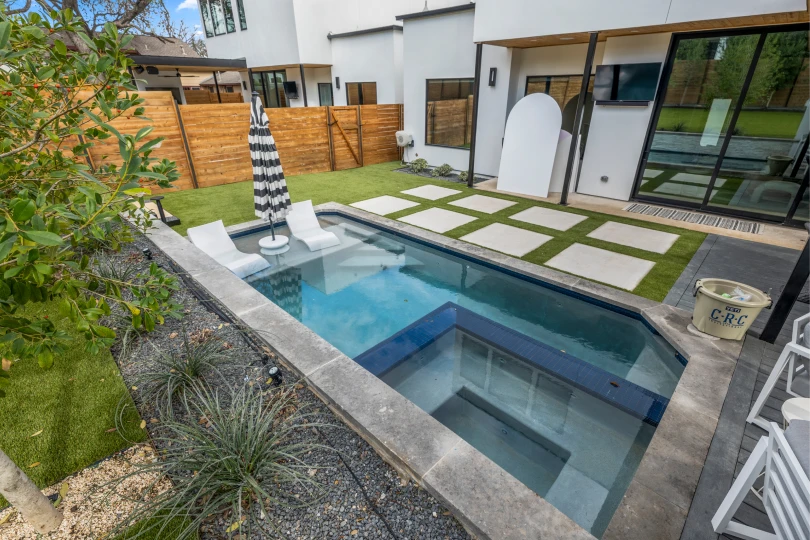 Deck
Are you looking for experienced deck contractors to help you create functional and stylish outdoor living spaces? Look no further than Cutters Landscaping!
Outdoor Living Spaces
Outdoor living spaces are areas in your home that have been created to stretch beyond the livable area – right into your backyard oasis.
Irrigation
Landscaping services don't just end at selecting water-friendly plants; watering the garden correctly is vital to preserving its beauty and lushness. That's where irrigation services come into play.
Get Professional Landscaping Services in Round Rock, TX From Cutters
Cutters Landscaping is a landscaping service Round Rock, TX, Company. We provide Round Rock lawn care, seasonal plant landscaping, hardscapes, irrigation, and outdoor living areas. Every consumer is treated with dignity, fairness, and excitement. We like building gorgeous, one-of-a-kind landscapes that your family may enjoy year after year.
We collaborate with nature to create attractive, inviting, and beneficial environments. We are regarded by customers and vendors for our professional approach to design and implementation. We are rediscovering nature's methods to assist environmentally friendly solutions to your landscaping demands. Our team comprises full-time, licensed, bonded, and insured specialists who are enthusiastic about their work.
Frequently Asked Questions
Selecting the right plants for your landscape design might be difficult. Other things to consider include the climate, soil type, solar exposure, water requirements, and so on. To simplify the process, assess your landscape design requirements and then research the finest plants for your unique site.
There are numerous firms to pick from, and determining which will deliver the most outstanding service may be challenging. However, a few basic actions include researching suitable firms, asking questions, obtaining quotes, etc.
Yards built and erected nevertheless require upkeep since grass, trees, and other plants grow daily. Landscapers provide lawn management services such as lawn mowing, tree and brush trimming, weed-whacking, leaf blowing, and more to help keep lawns groomed. 
 A landscaping company can help you with their skills and experience in developing and implementing top-notch landscaping plans for your property. A landscaping company will consider all your land's characteristics, including sun exposure, water drainage, soil type, and more.
Landscaping companies seek the most fantastic design to improve the exterior of your residential and commercial outdoor space, as well as grass care and maintenance strategies to keep your property looking its best. Like commercial landscapers, residential landscapers are frequently providing full service from design through installation and beyond.
In general, a landscaper should come once or twice a week. To ensure optimal health and length, lawns should be cut every one to two weeks. This is especially true in the spring when grass grows the most quickly.
Cutters Landscaping Round Rock
CUTTERS LANDSCAPING (ROUND ROCK) is located at 1 Chisholm Trail Rd Suite #450, Round Rock, TX 78681, United States. From Round Rock Premium Outlets,  Head North on N Interstate 35 Frontage Road toward Bass Pro Drive and Continue for 0.8 miles, Then Keep Left and Drive for 0.3 miles, Then Slight left onto S I-35 Frontage Road and Continue For 0.1 mile, Then Use the Left Lane to take the Ramp onto I-35 S and Continue for 2.7 miles, Then Take Exit 253 Toward U.S.79/Hutto/ Taylor and Continue For 0.2 miles, Then Merge with S I-35 Frontage Road and Drive for 1.3 miles, Then Continue on Sunset Drive to your destination, Then Turn Right onto Sunset Drive and Continue for 230ft, Then Turn Left and Continue for 190ft Until You Reach CUTTERS LANDSCAPING (ROUND ROCK). It Will Appear On The Left Side  
CUTTERS LANDSCAPING (ROUND ROCK)
Address: 1 Chisholm Trail Rd Suite #450, Round Rock, TX 78681, United States
We are open Monday – Friday 9 am to 4:30 pm
Call us at  +1 512-560-1968
Get in Touch with Cutters Landscaping in Round Rock
Our services begin with customized attention and a property walk-through. Contact us for a project estimate or learn more about our services. 
Cutters Landscape provides Landscaping Design, Hardscaping, Decks, Outdoor Living Spaces, and Irrigation in Round Rock and surrounding areas. Please complete our contact form to book a consultation.
Navigate Your Way to Cutters Landscaping Round Rock