Get Professional Landscaping Services with Cutters Landscaping Great Hills
Cutters Landscaping in Great Hills offers a complete variety of lawn care and landscaping services. We work with commercial and residential customers to create a stunning landscape design in Great Hills that you will love, whether you have a specific concept in mind or simply need to know what you want.
Cutters Great Hills Landscaping Services takes great pleasure in ensuring that our clients are satisfied with the quality of our work and the supplies we use to create your ideal Landscape. Our Great Hills Landscaping services include the following:
Landscape Design
Landscaping
Hardscaping
Decks
Outdoor Living Spaces
Irrigation
We provide Great Hills Landscaping Services that foster professional connections by developing trust, quality, and dedication. Like any other room in your home or workplace, your outdoor living area should represent your personality, lifestyle, and point of view.
Our specialty is working with you to create your perfect landscape design in Great Hills. When we collaborate, it is our primary priority to guarantee that those expectations are satisfied.
Our Services in Great Hills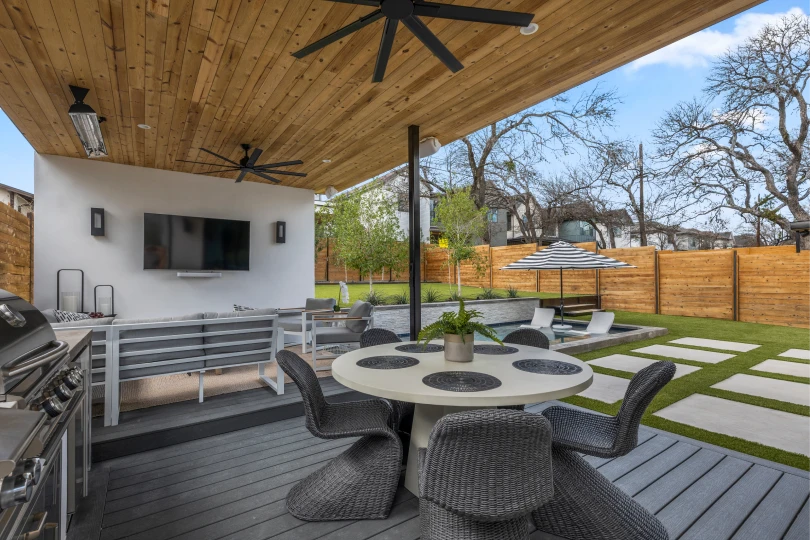 Landscape Design
Entrusting someone else with your property can be challenging, so we do our best in Landscape Design to make the process as easy and exciting as possible.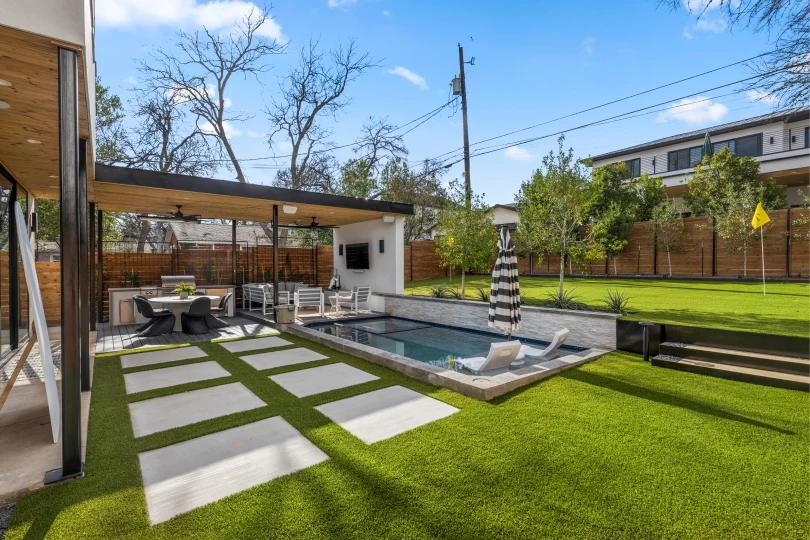 Landscaping
Landscaping is one of the most important elements of the outdoor space of a property and can improve or amplify the aesthetic component of any house or office space.
Hardscaping
To create a beautiful and effective area around your property, you must incorporate the two main elements of outdoor living spaces: softscape and hardscape .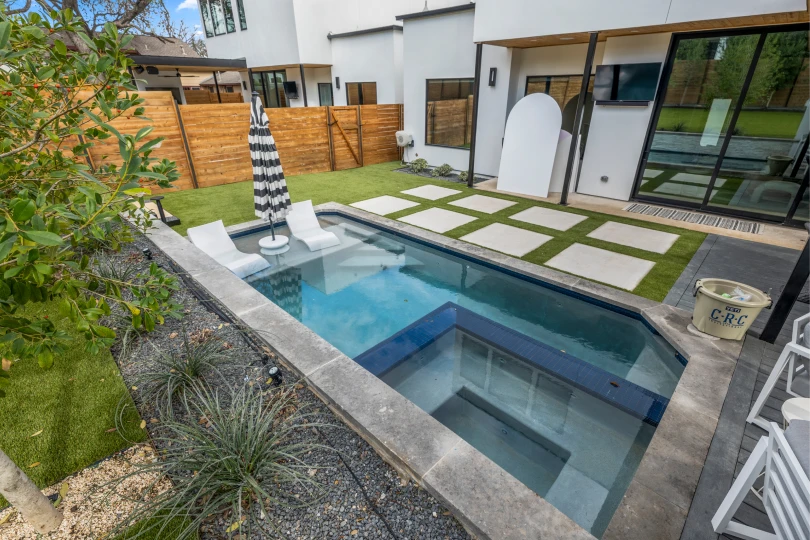 Deck
Are you looking for experienced deck contractors in Great Hills to help you create functional and stylish outdoor living spaces? Look no further than Cutters Landscaping!
Outdoor Living Spaces
Outdoor living spaces are areas in your home that have been created to stretch beyond the livable area – right into your backyard oasis.
Irrigation
Landscaping services don't just end at selecting water-friendly plants; watering the garden correctly is vital to preserving its beauty and lushness. That's where irrigation services come into play.
Why Choose Cutters Landscaping in Great Hills?
Cutters Landscaping, the Great Hills landscaping company, specializes in customer care and guarantees that you will get your money's worth for many years. We are the experts you can trust. Our traits distinguish us from our competitors: trustworthiness, competence, dependability, accountability, accessibility, warranty, and security.
Cutters Landscaping is a high-end landscape design Great Hills firm specializing in Landscaping, Hardscaping, Decking, Outdoor Living Spaces, and Irrigation.
Our company concentrates on a range of landscape design Great Hills features and techniques, all of which aim to improve the property's beauty while encouraging thinking, creativity, and enjoyment.
Great Hills Landscaping company employees work hard to assist clients in defining the scope of work, phasing, overall project coordination, and budget. As specialists in our area, solid client connections are just as vital as our services.
One of the pillars of our company's ideas for running a successful organization is integrity, both in client relations and corporate services. Therefore, we will not only give design ideas but also guarantee that all of the various aspects are tailored to match your tastes and budget.
Transforming landscapes into stunning works of art
Regarding landscaping services Great Hills, TX, Cutters Landscape is the best and most trusted. Because of our extensive business knowledge, comprehensive services, and excellent work ethics, we are the first option for many residential and commercial property owners.
Our objective is to make your next landscaping job easier by providing expert services that will result in the perfect paver driveway. At Great Hills Lawn Care, we understand that our consumers rely on us and demand dependability, which is how we maintain our stellar reputation.
Cutters landscaping services Great Hills, TX, is a forward-thinking, "out-of-the-box" firm. It all started with a desire to assist homes in creating and transforming drab concrete and grass areas into attractive outdoor living places that family and friends can enjoy.
Frequently Asked Questions
Landscaping includes the installation of plants, alterations to the existing topography, and the creation of structures. Nowadays, landscaping refers to the design, layout, and construction of gardens that improve the aesthetic and provide a usable area for outdoor activities surrounding a residence.
Creating your outdoor living space is a fulfilling experience that lets you customize your area to match your style and needs. Start by brainstorming and researching ideas to determine the best size and shape. Assess materials, furnishings, and accessories, then establish a budget and timeline to stay on track.
Hardscaping is an excellent approach to increase the appearance of your outdoor area while also making it more useful for your requirements. When planning hardscaping, consider the size of the place to be hardscaped, the materials available, the sort of design desired, and the budget you have set up.
The technique of building outdoor living areas with hard materials such as stone, concrete, and brick is known as hardscaping. Hardscaping may also include wood or metal for fences or seats. Concrete is essential to hardscaping since it is one of the most durable and adaptable materials available.
Hiring a professional landscape designer may be worth the price of creating a beautiful and distinctive outdoor setting. A landscape designer can build an outdoor refuge that is suited to your requirements and tastes using their knowledge and creative vision. They can assist you in selecting the ideal plants, materials, and features.
Landscape design project duration varies by size and complexity. It may take weeks to months to complete, with site examination, planning, material selection, compliance checks, and weather-related delays to consider. It's essential to be realistic about timelines and account for unexpected factors.
Cutters Landscaping Great Hills
CUTTERS LANDSCAPING (GREAT HILLS AUSTIN) is located at 9600 Great Hills Trl Suite 150W, Austin, TX 78759, United States. From Dave & Buster's Austin,  Head North Toward Research Blvd and Continue For 259ft, Then Continue straight and Drive for 0.3 miles, Then Turn Right Onto Research Blvd and Continue for 0.7 miles ( You will pass by The Container Store on the Right in 0.4 miles), Then Turn left onto Great Hills Trl and Continue For 0.5 Miles (You will pass by Starbucks on the Right in 0.4 miles), Then Turn right and Continue for 72 ft, Then Turn left and Drive For 56ft Until You Reach CUTTERS LANDSCAPING (GREAT HILLS AUSTIN). It Will Appear On The Right Side  
CUTTERS LANDSCAPING (GREAT HILLS AUSTIN)
Address: 9600 Great Hills Trl Suite 150W, Austin, TX 78759, United States
We are open Monday – Friday 9 am to 4:30 pm
Call us at  +1 512-560-1968
For More Info, You Can Also Visit Our Yelp Profile
Get in Touch with Cutters Landscaping in Great Hills
Cutters Landscape Services has delivered reliable lawn care and landscape consultation Great Hills. We simplify obtaining a price, scheduling your service, and providing convenient billing choices. We promise that you will enjoy the service you receive, or we will promptly send a team out to repair the problem. No Questions Asked!